Minya Konka Trek
Minya Konka, also known as Gongga Shan, is a mountain in eastern Tibet. This region of the plateau, called by Tibetans "Kham", is slowly becoming know to the world for its incredible untouched mountain scenery and spectacular views.
Discover hidden valleys and stunning alpine scenery in one of the few untouched areas of the world - eastern Tibet. Immerse yourself in Tibetan Khampa culture, camping in high altitude meadows with nomadic yak herders and drinking tea by the fire as the sun goes down. Get close to the peaks of 6,000 meter mountains and soak in the unspoiled nature of the plateau on this trek of a lifetime in Tibet.
If you're looking for an off the beaten track hiking holiday, this is the one for you. Adventurous and challenging, find your authentic Tibetan experience in Kham.
Enquire for price
11 night journey
DEPARTS: Chengdu, china
Maximum elevation: 4,937m
Best time: May, September & October
Minimum group size: 4 people
Single room supplement available on request.
TRIP EXCLUSIONS
International airfare to Chengdu (This can be arranged for you. Please contact us for details)

China Visa

Comprehensive travel insurance. Click here for an insurance quote.

Additional activities not included in the itinerary

Alcoholic or soft drinks

Laundry

Tips for guide & driver
Trip Inclusions
All transport, including airport pick-ups and transfer

Private vehicle and driver

All meals, including snacks and cooked meals during the trek

All accommodation, based on twin share (including tents and sleeping pads during the trek)

Horse trek guide, including pack horses during the trek

All entrance fees and activities as included in itinerary

Excellent English speaking Tibetan guide

Use of a cell phone with local number for duration of the trip
TRIP OVERVIEW
Your trip begins in Chengdu, the capital of Sichuan province and gateway to western China, where you'll be met at the airport and taken out to see some cultural highlights of the city. The next day, a six hour drive takes you up and onto the Tibetan plateau to the city of Kangding, at the traditional border of Kham Tibet and China. Here you can experience Tibetan culture for the first time - visit a local monastery to see maroon-robed monks spinning prayer wheels, join the elegantly dressed local men and women in a community dance in the main square of town, and sample some fine Tibetan cuisine.
After acclimatizing for a couple of nights in Kangding, it's time to set off into the mountains. A short drive brings you to the foothills of Minya Konka from where the trail begins. Ascend gently for three days through forested valleys, flowering alpine meadows, and clear glacial streams to reach the highest camp of the trek at 4,350m in the lap of the towering peaks of Minya Konka. On day four of the trek, we guide you over the highest pass (4,937m) and the downhill journey begins.
The final day of the trek ends at Konka Monastery, where you can exchange your tent among nomads and yaks for a bed in the monastery, under the care of local monks. Finally, return to Kangding for a hot shower and western meal, and celebrate the completion of your trek with a night of rest before following the highway down to low altitude Chengdu for your departure.

ITINERARY
DAY 1
Chengdu: Arrive in the modern city of Chengdu. Transfer to your hotel for a rest, then head out for a visit and dinner at China's historical Zhuge Liang Memorial Temple and Jinli Ancient Street.
Overnight: Chengdu
Altitude: 485 m
DAY 2
Kangding: Depart Chengdu, driving deep into the mountains. As you drive, you will go through a cultural time-warp, where everything changes; landscape, climate, cuisine, language, customs, and of course, the people. In the evening visit Ngachu Monastery, followed by a community dance (join in if you like!)
Driving time: 5 hrs
Overnight: Kangding
Altitude: 2,600 m
DAY 3
Kangding: After breakfast, a short acclimatizing hike will show you the best views of Kangding. Later, visit the Tibetan Museum of Cultural History and the local markets to understand the key role Kangding historically played in border trade between China and Tibet.
Overnight: Kangding
Altitude: 2,600 m
DAY 4
Trek, Day 1: Start early with a 30 minute drive to Laoyulin (3,109 m), in Minya Konka's foothills, the starting place of our six-day trek. Hike for 2-3 hours along a gentle trail through a forested valley, and up alongside Riwoche River to an alpine grassland (3,658 m), where you will spend your first night out.
Altitude: 3,700 m
DAY 5
Trek, Day 2: Continue along the gentle but steadily rising trail, taking plenty of stops for acclimatization and to enjoy the beautiful scenery that opens up around you. There are a few steeper sections, to prepare you well for the days ahead. Your camping ground for the night will be near the confluence of the Riwoche Valley and Panpan Mt Valley, in a small grassland area popular with nomads and grazing yaks.
Altitude: 4,000 m
DAY 6
Trek, Day 3: Today, you emerge out of the forests into the meadows and alpine scrub of the upper reaches of Minyak Konka, ready for crossing the highest pass of the trek tomorrow. Slowly climb to a high-altitude campsite, and enjoy the views of the surrounding 6,000m peaks. If you're still feeling energetic, there's an optional trek from your evening campsite to a glacial lake with stunning views of the Minyak Konka range.
Altitude: 4,350 m
DAY 7
Trek, Day 4: After an early breakfast, the top of the Riwoche pass (4,937 m) is only three hours away, and rewards you with some of the best views of the whole trek. Take a short break to soak in the scenery and catch your breath, then start the downhill journey into the forested Moxi Valley. Rest in a yak herder's camp for the night.
Altitude: 3,700 m
DAY 8
Trek, Day 5: Continue down the Moxi Valley through meadows and rhododendron forest, navigating several river and stream crossings. After 4-5 hours, you'll reach a beautiful low-altitude meadow to camp in for the night, before slowly climbing up again in the morning to reach Konka Monastery.
Altitude: 3,350 m
day 9
Trek, Day 6: Konka Monastery, your destination today, is one of the most isolated monasteries in the world. It has survived for over 700 years in this hidden valley on the western side of Minya Konka and is still in use. In the afternoon there is an optional extra hike up a glacial valley, or you can relax in the monastery grounds. Tonight you can sleep in the monastery itself or in an adjacent stone dormitory.
Altitude: 3,750 m
day 10
Kangding: Follow the forested slope downhill for two hours away from the monastery and along the river to Zemei village. Your trek ends here, so celebrate with a short rest at a beautiful local guesthouse, before our 4X4 cars pick you up for the final leg of the journey. The four-hour drive back to Kangding takes you over two 4,500m passes via remote nomadic settlements, and allows for some great views of the main peaks again. Hot showers and western comfort food are waiting for you at Zhilam Guesthouse, back in civilization in Kangding.
Overnight: Kangding
Altitude: 2,600 m
day 11
Chengdu: Once you're well-rested and well-fed, the journey back to the lower altitudes and warmer air of Chengdu begins. Leave the mountains behind, and step back into the big city.
Overnight: Chengdu
Altitude: 485 m
day 12
Depart Chengdu: Say farewell, and drive to the airport for your departure.
Other trips you may be interested in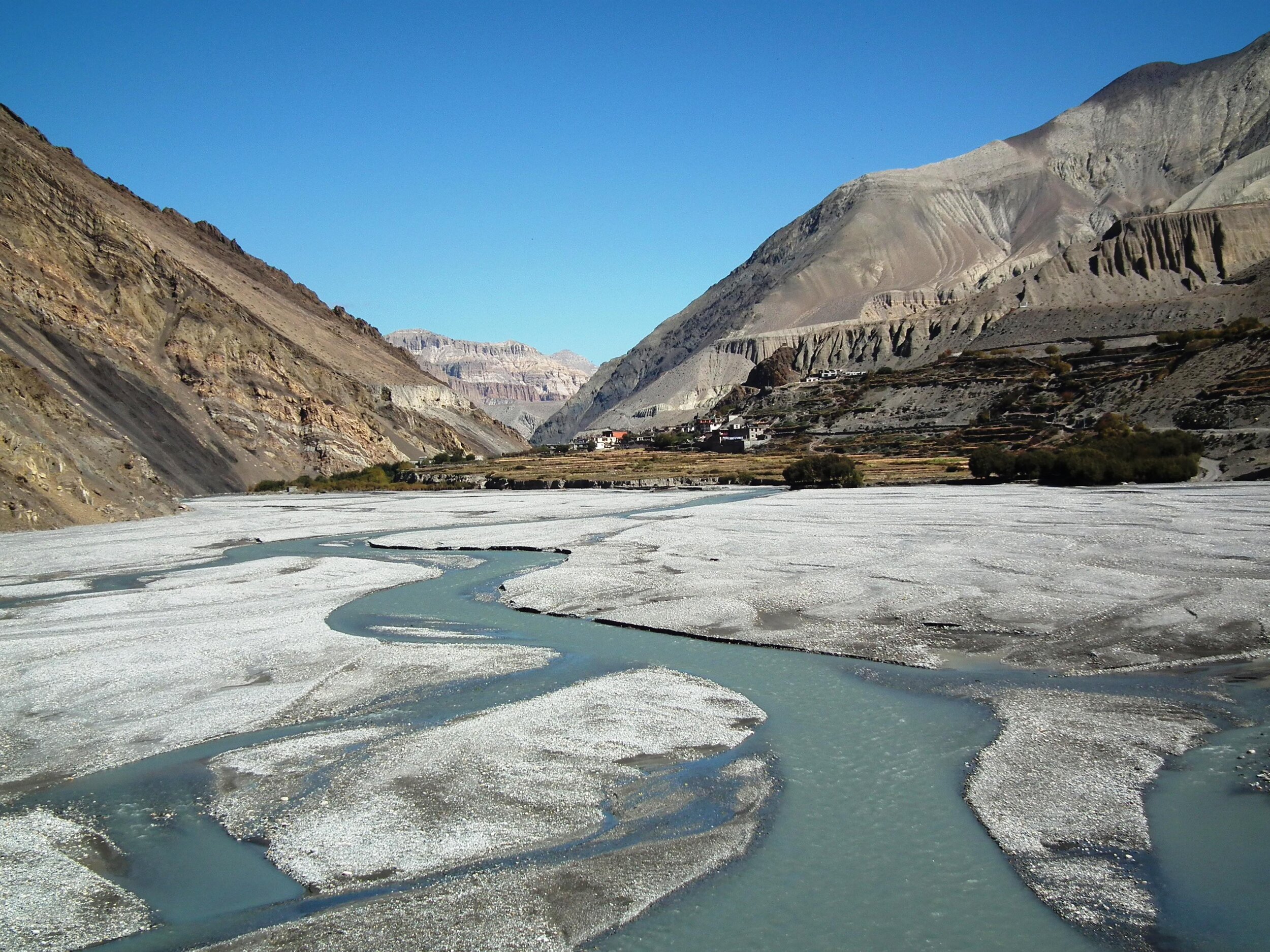 Annapurna Circuit Trek, Nepal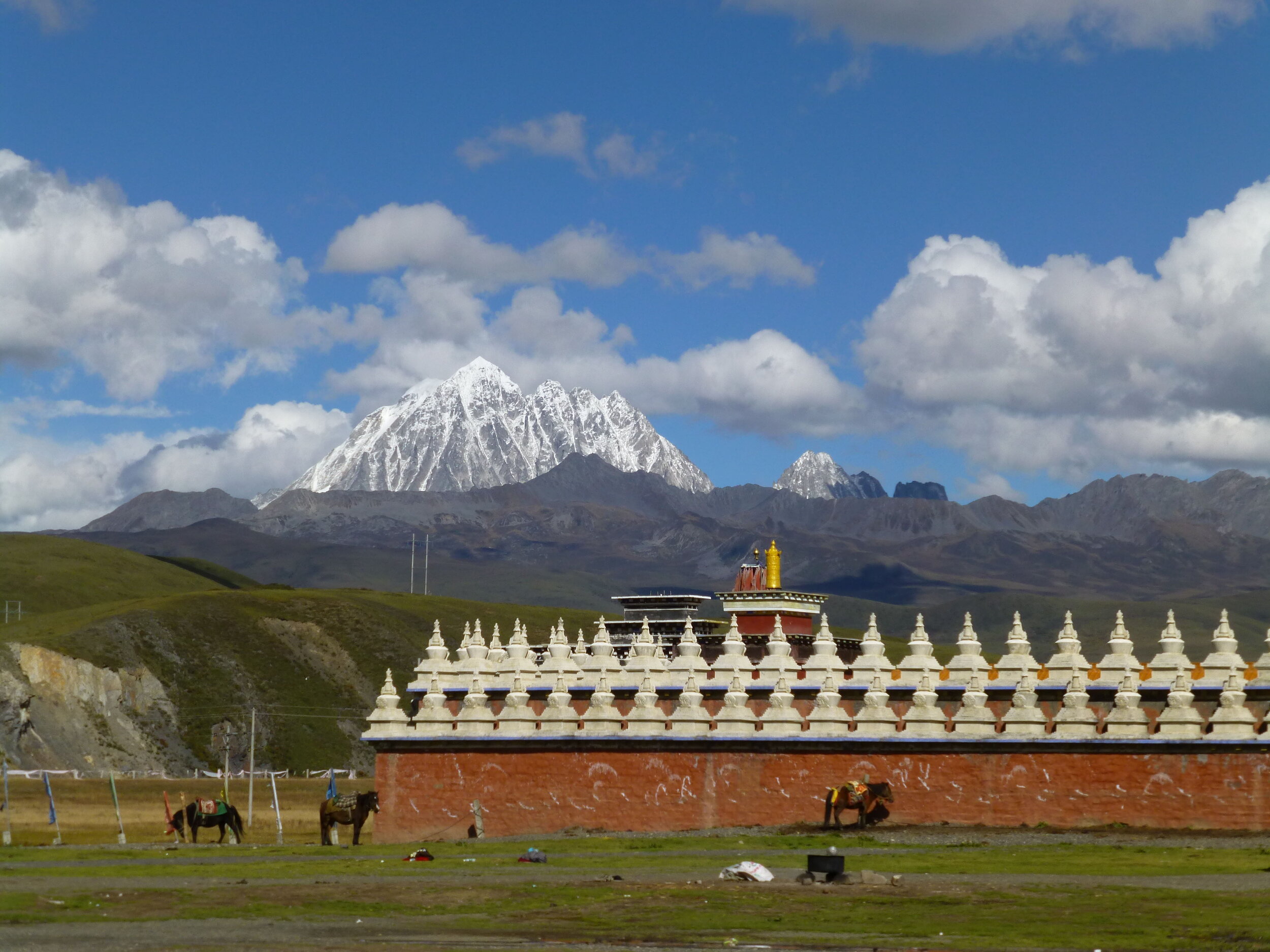 Mountains, Myth & Magic, Tibet