Authentic Amdo
stay with farmers and in nomadic tents, Experience real Tibetan life
Want to experience daily life in Tibet, as it is for the millions of farmers and nomads who live on the plateau? Our Beyond The Clouds Authentic Amdo Journey takes you across the eastern edge of the Tibetan plateau, traversing alpine grasslands and high altitude passes to travel to ancient monasteries and quaint villages. This is truly an experience like no other.
Amdo remains a relatively unexplored region of Tibet, situated in modern-day Qinghai and Gansu provinces of China. Traveling off the beaten track to this remote area rewards visitors with an immersive experience in the traditional Tibetan culture, away from snap-happy tourists and city distractions. Here you'll find authentic nomadic and farming communities living as they have for centuries in the clear mountain environments. Nearby are two of of the region's most historically important monasteries, home to hundreds of monks and centers for pilgrimage. As a bonus, because this area of Tibet is a part of Gansu, no special Tibet travel permits are required.
Our carefully planned 10-night journey introduces you to Eastern Tibet's stunning natural environment, ancient monasteries, well preserved unique traditions and friendly local people. Let us introduce you to the rich Buddhist culture and magnificent landscapes, and help you have a truly Tibetan experience that you'll never forget.
This tour is designed for people who want to get a taste of Tibet and explore off the beaten track, experiencing the magic of traditional Tibetan culture. To provide the ultimate Tibet experience, we have hand-picked the local accommodation, which includes a homestay in a small village and two nights in a nomad-style glamping tent. You will be accompanied by an experienced English speaking Tibetan guide who will really look after you throughout your journey, and play a special part in your Tibetan experience.
Enquire for price
10 NIGHT JOURNEY
DEPARTS: CHENGDU
Maximum elevation: 3,400 m
Availability: Late May to October
Minimum group size: 2 people
Single room supplement subject to availability.
TRIP EXCLUSIONS
International airfare to Chengdu. (This can be arranged for you. Please contact us for details).

Stopover hotel if needed

China Visa

Comprehensive travel insurance. Click here for an insurance quote.

Additional activities not included in the itinerary

Alcoholic or soft drinks

Laundry

Tips for guide & driver
TRIP INCLUSIONS
All transport including airport pick-up and transfers

Private vehicle and driver

All meals, including complimentary bottled water

All accommodation, based on twin share

All entrance fees and activities as included in itinerary

Excellent english speaking Tibetan guide

Domestic flight (Chengdu-Xiahe-Chengdu)
TRIP OVERVIEW
Your journey begins with a day exploring the Chinese city of Chengdu. Visit the Giant Panda breeding centre and historical temples. The next morning, fly out over the clouds to Xiahe, a small town on the north-east corner of the Tibetan plateau. Xiahe is the jumping off point for your exploration into Amdo, one of the three traditional areas of Tibet. Amdo is famous for its vast grasslands and nomadic culture, two things that you will be experiencing plenty of during this unforgettable journey.
As you drive out into Tewo County to the town of Diebu, the incredible scenery of the Tibetan plateau is on full display - towering mountain peaks, gushing clear streams, and yaks dotting the rolling grasslands. From Diebu a day-trip takes you to the Zhagana "Stone Village", a small community of houses clustered at the bottom of an impressive stone mountain that resembles an otherworldly palace. Zhagana is a wonderland for photography and short hikes.
Moving on from Diebu, you'll travel with your guide Tsering to her home village, where her family will host you in their home for two nights. Learn about the traditional Tibetan way of life as you help them to prepare meals, herd their yaks in the hills above their home, and take a mountain picnic. Staying in the village is a truly authentic experience with no western-style bathrooms, showers or internet.
From here we travel to Langmusi Monastery, in the sleepy town of Langmu. Known as the "little Switzerland" of Tibet, Langmusi lies in a beautiful valley surrounded by alpine forests and amazing mountain scenery.
Your final two nights on the Tibetan plateau will be spent in comfortable nomadic-style glamping tents near Labrang Monastery. These tents are run by local Tibetans, who have furnished them to a high western standard, and provide a taste of luxury in the remote region. Enjoy a campfire at night, and listening to the wind blowing across the empty meadows. After a day trip to Labrang Monastery, the most important in Amdo, and featuring an inner kora with the world's longest stretch of prayer wheels, return again to the camp to soak up the serenity and view the sunset from your comfortable tent.
The next morning, return to Xiahe airport to fly back to Chengdu for one more night before departure.
ITINERARY
DAY 1
Arrive in Chengdu: Arrive in Chengdu and transfer to your hotel near Wenshu Buddhist temple.
Driving time: 30 minutes
Overnight: Chengdu
Altitude: 485 m
DAY 2
Chengdu: Visit the Giant Panda Research and Breeding Centre in the morning, and in the afternoon visit Wenshu Temple and Jinli Ancient Street. Welcome dinner at a Tibetan restaurant.
Overnight: Chengdu
Altitude: 485 m
DAY 3
Tewo/ Diebu: Fly from Chengdu to Xiahe, meet your driver at the airport and drive to Tewo County town. After lunch, visit a nearby Bon monastery.
Driving time: 4 hrs
Overnight: Diebu
Altitude: 2,300 m
DAY 4
Zhagana Village: Drive to Zhagana Village, 3200 m, set amongst stunning rock formations resembling a giant palace. Take a short hike to acclimatize, and in the late afternoon return to Tewo.
Overnight: Diebu
Altitude: 2,300 m
DAY 5
Tsering's Village: Drive to our guide Tsering's village, a traditional farming community located on top of a mountain. Explore the village and experience real Tibetan life.
Driving time: 1 hr
Overnight: Tsering's Village (Homestay)
Altitude: 2,800 m
DAY 6
Tsering's Village: Join the pilgrims for a morning walk, or help Tsering's sister to herd the yaks up the mountain. Take a short hike with Tsering's family and help to prepare dinner in the family home.
Overnight: Tsering's Village (Homestay)
Altitude: 2,800 m
DAY 7
Langmu Monastery: Drive to Langmu Monastery, the largest in the region. Explore the monastery, and take a short hike.
Driving time: 2 hrs
Overnight: Langmusi Town
Altitude: 3,325 m
DAY 8
Nomad-Style Glamping: Drive to Labrang, and into the empty grasslands to find your nomad-style glamping tents ready and waiting. Relax and enjoy the serenity.
Driving time: 2.5 hrs
Overnight: Labrang Glamping
Altitude: 2,950 m
DAY 9
Labrang: Visit Labrang Monastery, the most influential monastery in Amdo and home to thousands of monks. After the monastery, visit the local market to buy souvenirs. Return to the camp in the evening.
Overnight: Labrang Glamping
Altitude: 2,950 m
DAY 10
Chengdu: After breakfast in the camp, drive to the Xiahe airport and fly back to Chengdu. Free time in Chengdu to do any last minute shopping.
Driving time: 1 hr
Overnight: Chengdu
Altitude: 485 m
DAY 11
Depart Chengdu
Other trips you may be interested in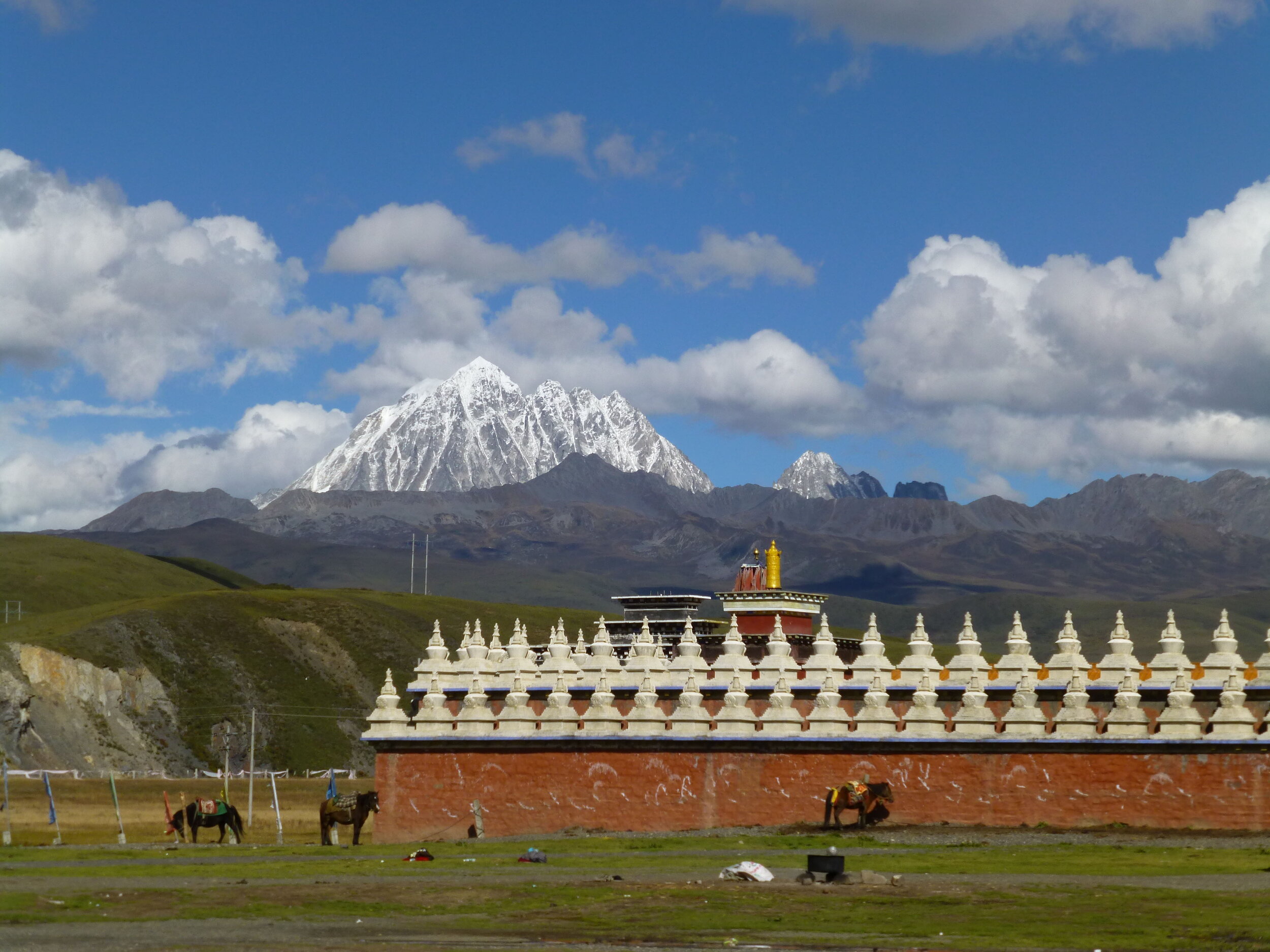 Mountains, Myth & Magic, Tibet