Road to Shangri-La
An epic adventure across the roof of the world in Eastern Tibet
Our Beyond The Clouds Road To Shangri-La Journey takes you across the roof of the world, from Chengdu in Sichuan province all the way down to Shangri-La in Yunnan province. Kham, this eastern part of the Tibetan plateau, provides a unique experience, as you'll travel through towns and valleys where the culture and scenery have remained a well-kept secret for centuries.
The region of Kham is one of the three main traditional provinces of Tibet, populated by two million Tibetans. It offers spectacular scenery of mountains and gorges, is less known and explored, and in many ways is more authentically Tibetan than Central Tibet. Most of Kham is now part of Sichuan and Yunnan provinces, meaning no special Tibet Travel Permits are required. Our carefully planned 11 - night journey introduces you to Eastern Tibet's stunning natural environment, ancient monasteries, well preserved unique traditions and friendly & hospitable local people. Experience the rich Buddhist culture and stunning landscapes with us.
This intrepid tour is designed for people who want to explore off the beaten track and experience the magic of traditional Tibetan culture. To provide the ultimate Tibet experience, we have hand-picked the accommodation which varies from simple lodges to luxurious boutique hotels. You will be accompanied by an experienced English speaking Tibetan guide who will really look after you throughout your journey, and play a special part in your Tibetan experience.
Enquire for price
11 night tour
DEPARTS: chengdu
Maximum elevation: 4,650 m
Availability: May to June & September to October
Minimum group size: 2 people
Single room supplement available.
TRIP EXCLUSIONS
International airfare to Chengdu. (This can be arranged for you. Please contact us for details).

Stopover hotel if needed

Visa

Comprehensive travel insurance. Click here for an insurance quote.

Additional activities not included in the itinerary

Alcoholic or soft drinks

Laundry

Tips for guide & driver
Trip Inclusions
All transport including airport pick-up and transfers

Domestic flight from Shangri-La to Chengdu

Private vehicle and driver

All meals, including complimentary bottled water

All accommodation, based on twin share

All entrance fees and activities as included in itinerary

Excellent english speaking Tibetan guide

Use of a cell phone with local number for duration of the trip
TRIP OVERVIEW
Your journey begins exploring Chengdu. Visit the Giant Panda breeding centre and historical temples. Leaving the city behind you, drive out of the Sichuan basin heading deep into the mountains that lead to the Tibetan plateau. During the five hour journey, everything changes including the landscape, climate, cuisine, language, customs, and the people. We base ourselves in the historic trading town of Kangding for 2 nights. Right on the eastern edge of the Tibetan plateau, at 2500 m, Kangding is the perfect place to acclimatise.
From Kangding, we cross the Zheduo Mountain pass at 4200 m to the Tibetan Plateau! This really is the roof of the world. We continue our journey to the frontier town of Tagong, home to a 1400 year old monastery. Our overnight accommodation is built in traditional Tibetan style offering every comfort and an opportunity to relax and unwind. From here, the road climbs to one of the world's highest towns, Litang. Get a glimpse of life on the grasslands which are dotted with nomad settlements. From here we head south to the beautiful Yading National Nature Preserve for a full day. Descend through picturesque villages and deep gorges before eventually arriving in the mystical land of Shangri-La. Explore the old town and visit the ancient monastery from our Tibetan luxury hotel. Return by air to Chengdu for your final night before departure.
DAY 1
Arrive in Chengdu: Visit the Wenshu Buddhist Temple. Enjoy a buffet dinner at the vegetarian restaurant inside the temple complex.
Driving time: 30 minutes
Overnight: Chengdu
Altitude: 485 m
DAY 2
Chengdu: Visit the Giant Panda Research and Breeding Center and the Buddhist temple Wenshu Yuan. Enjoy an evening at the Sichuan Opera.
Overnight: Chengdu
Altitude: 485 m
DAY 3
Kangding: Depart Chengdu, driving into the mountains. Arrive in Kangding and visit Lhamo Tse Monastery.
Driving time: 5 hrs
Overnight: Kangding
Altitude: 2,600 m
DAY 4
Kangding: Visit Dordrak Monastery before taking a cable car to the top of Paoma Mountain look-out. Join a community dance in the evening.
Overnight: Kangding
Altitude: 2,600 m
DAY 5
Tagong: Travel over the Zheduo Pass (4,200m) to the nomadic trading village of Tagong. Visit Lhagang Monastery, one of the most important in the Kham area. Return to your hotel in Xinduqiao to relax.
Driving time: 2 hrs
Overnight: Xinduqiao
Altitude: 3,700 m
DAY 6
Litang: Climb to one of the world's highest towns passing countless yaks, sheep and nomads tents. Litang, the birth place of several Dalai Lamas also has an interesting monastery.
Driving time: 3.5 hrs
Overnight: Litang
Altitude: 4,014 m
DAY 7
Yading: Turning South towards the Yunnan border, pass the Haizi Mountain National Nature Reserve through Daocheng town to our base for the night near Yading National Park.
Driving time: 3.5 hours
Overnight: Yading
Altitude: 2,800 m
DAY 8
Yading: Full day in the beautiful Yading National Nature Reserve. Enjoy a walk and take in the scenery which has three 6,000m peaks.
Driving time: 2 hrs round trip
Overnight: Yading
Altitude: 2,800 m
DAY 9
Shangri-La: Drive over your last mountain pass and descend to the fabled Shangri-La, travelling past quaint villages and farms.
Driving time: 8 hrs
Overnight: Shangri-La
Altitude: 3,300 m
DAY 10
Shangri-La: Explore Shangri-La's Old Town and Napa Lake.
Overnight: Shangri-La
Altitude: 3,300
DAY 11
Chengdu: Visit Songzanlin Monastery before departing by air in the evening from Shangri-La to Chengdu.
Flight time: 1 hr 15 min
Overnight: Chengdu
Altitude: 485 m
DAY 12
Depart Chengdu
Other trips you may be interested in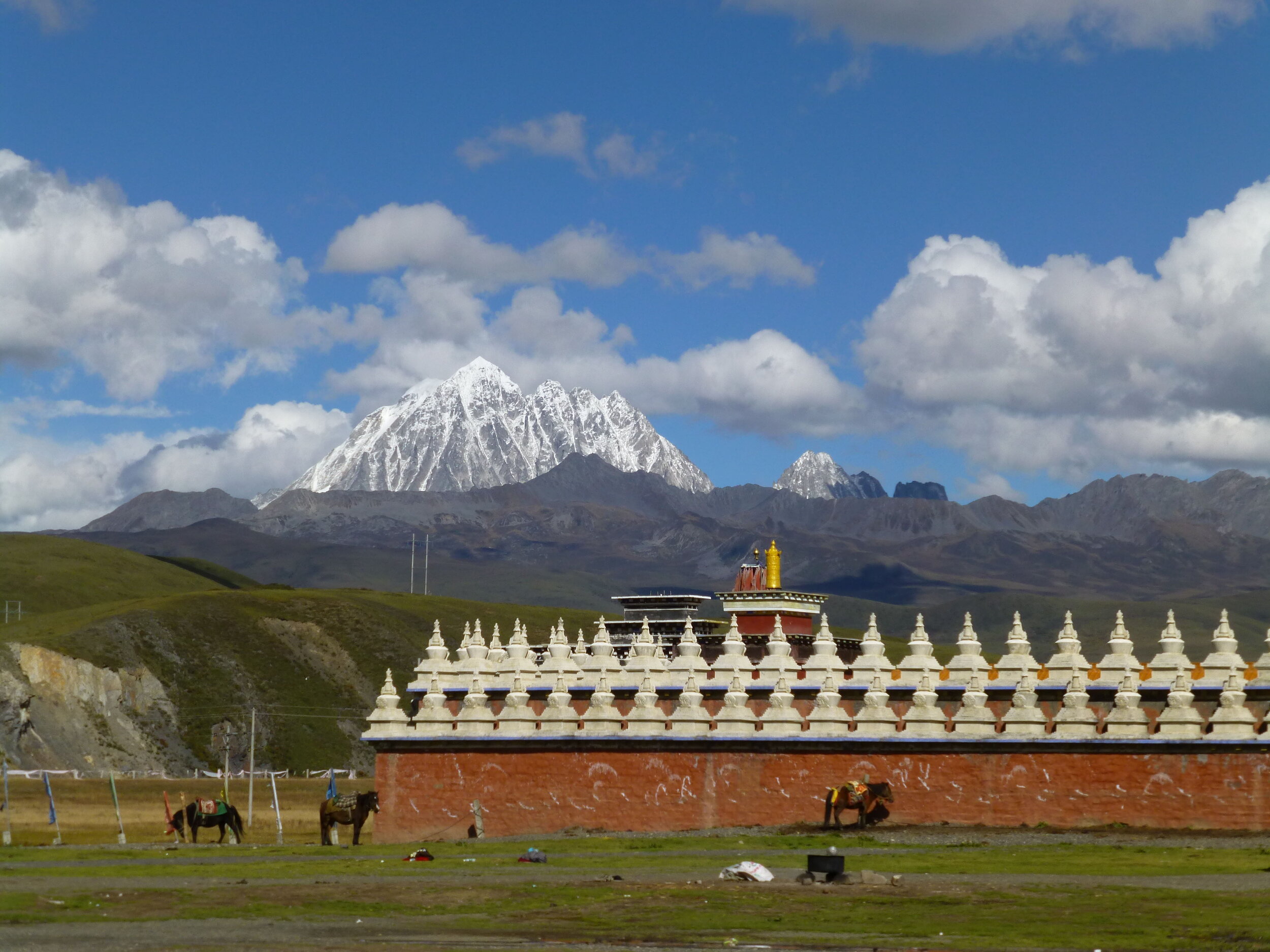 Mountains, Myth & Magic, Tibet