Laya Gasa Trek
Trekking in Bhutan is like nowhere else in the Himalayas. It's an untouched natural wonderland. Rated as one of Bhutan's most spectacular, the Laya Gasa trek takes you across northern Bhutan's border with Tibet.
Enjoy fabulous views of snow-capped mountains and experience the unique culture of the friendly Layap people in a truly remote corner of the Himalayas.
In October, don't miss the annual Royal Highlander Festival that takes place in Laya. See the local people showcasing their unique culture over a two-day event in the remote countryside.
US$5,200*
18 NIGHT TOUR WITH 13 NIGHT TREK
DEPARTS: paro, bhutan
Maximum elevation: 4,870 m
Level of difficulty: Hard
Availability: March - May & September - November
Minimum group size: 2 people
* Price based on twin-share accommodation. Single-room supplement available subject to availability. Please note that groups of two people will also need to pay a two-person supplement.

Find out approximate trip price in your own currency here
Trip Inclusions
Transport by private mini bus

All meals, mineral water, tea and coffee

5 nights accommodation in handpicked hotels

13 nights fully serviced camping trek

Bhutan visa, Bhutan government tourism royalties and local taxes

English-speaking Bhutanese guide

All entrance fees at monasteries and museums
TRIP EXCLUSIONS
International airfare to Bhutan. (This can be arranged for you. Please contact us for details)

Stopover hotel if needed

Comprehensive travel insurance. Click here for an insurance quote

Additional activities (e.g. massage, hot-stone bath and some spa activities)

Alcoholic or soft drinks

Laundry

Tips for trekking porters
TRIP OVERVIEW
Your journey begins in the beautiful Paro Valley. Stay in a charming Bhutanese-style boutique hotel located on the edge of a forest. Wake up to breathtaking views of Himalayan peaks in your rustic villa. Visit Paro Dzong, the National Museum and the famous Nyamai Zam Bridge.
The next day, visit Taktshang Monastery (Tiger's Nest), Bhutan's most famous and iconic landmark. A hike up through blue pines, passing water-powered prayer wheels, leads you to this ancient monastery clinging miraculously to a sheer cliff. The views over the Paro Valley are magnificent, with the only sounds the prayer flags blowing in the wind.
Drive to the start of the trek near Gunitsawa where, after a short walk, we camp for the night. The trail then climbs through conifer forests following a river valley.
At Jangothang, have a rest day to acclimatise. Do a day hike, taking in great views of Jomolhari and Jichu Drake. We might even see native blue sheep! The trail leads to the remote village of Lingzhi via the Nyile La Pass. At Lingzhi, the Laya Gasa route departs from the Jomolhari trek route, and we head to Chebisa, which is in a picturesque valley of stone houses and pastures. Blue sheep can be spotted nearby.
Be prepared for one of the hardest days of the trek as we climb to the Sinche La Pass (5,005 m). Be rewarded with stunning views, including the spectacular Tiger Mountain at the head of the valley. On a clear day, practically all mountains on the northern border are visible.
Descend though beautiful forests and enter the village of Laya, home to the indigenous Layap people. The Layaps have their own language, customs and are famous for wearing traditional woven conical hats with a spike at the top. There are approximately 800 inhabitants in this remote village, which has a school, hospital, several small shops and a gompa (monastery). The trail then descends down the Mochhu River towards Gasa, renowned for its hot springs. From here, walk to the roadhead at Damji and return to Punakha.
Visit Punakha Dzong before driving across the Dochula Pass to Thimpu. Thimpu is one of the world's smallest capital cities and the only one without traffic lights! Enjoy a city walk and visit Trashi Chhoe Dzong, the Memorial Chorten, Buddha Point, Folk Heritage Museum, National Library and the School of Traditional Arts and Crafts. Depart Thimpu for Paro Airport and your onward flight.
DAY 1
Arrive in Paro, Bhutan: You will be met at the airport by your guide. Travel to your hotel just outside Paro. Visit Paro Dzong, the National Museum and the famous Nyamai Zam Bridge.
Overnight: Paro
Altitude: 2,200 m
DAY 2
Paro: Tiger's Nest excursion - a good acclimatization hike to prepare you for tackling the trek in a couple of days.
Overnight: Paro
Altitude: 2,200 m
DAY 3
Paro to Sharna Zampa: Drive to the start of the trek at Gunitsawa. From here it's a short 1 hour walk to reach Sharna Zampa, where you'll camp for the night.
Driving time: 3 hrs
Walking time: 1 hrs
Overnight: Sharna Zampa Camp
Altitude: 2,850 m
DAY 4
Trek from Sharna Zampa to Thangthangkha: Today is going to be a big day of hiking as the trail passes over lots of small ups and downs. After going uphill through the river valley, the valley finally narrows gradually to a path which descends to a meadow where a camp will be set up. From here, if weather permits, you will have the first great view of Mt. Jomolhari.
Walking time: 8-9 hrs
Overnight: Thangthankgka Camp
Altitude: 3,610 m
DAY 5
Trek from Thangthangkha to Jangothang: You are now entering "yak country". Yaks are utilized for pack animals as well as supplying cheese, milk, tea, meat and yak hair for weaving of huts, blankets, clothes, backpacks and hats. Burley and huge, the yak plays a significant role in Bhutanese history. Remote villages are dotted throughout this area. A stone and log bridge provides access to Jangothang. There are unparalleled views of snowy peaks from the eastern side of the valley.
Walking time: 5-6 hrs
Overnight: Jangothang Camp
Altitude: 4,080 m
DAY 6
Jangothang: Rest day with day hike. It's very important at the higher altitudes to keep acclimatizing and giving your body time to adjust.
Overnight: Jangothang Camp
Altitude: 4,080 m
DAY 7
Trek from Jangothang to Lingshi: The trail climbs gradually to Nyili La Pass (4680m). Broad yak pastures can be seen along the length of the route. If the weather is clear, there is an excellent view of Lingshi Dzong as we descend into the Lingshi basin. Tserim Kang and its descending glaciers can be seen at the north end of the valley.
Walking time: 7-8 hrs
Overnight: Lingshi Camp
Altitude: 3,800 m
DAY 8
Trek from Lingshi to Chebisa: This is the shortest trekking day. Once we have reached our camp at Chebisa, it is possible to visit some village houses and a waterfall just behind the village.
Walking time: 5 hrs
Overnight: Chebisa Camp
Altitude: 3,910 m
DAY 9
Trek from Chebisa to Shomuthang: The trail goes through wild pastures where yaks graze. We cross the Gobu La Pass (4350m) before carrying on over undulating fields and rhododendron forest to reach Shomuthang. The camp is near a tributary to the Mo Chhu which emerges below the Gasa Tsachu (Hot Spring).
Walking time: 6-7 hrs
Overnight: Shomuthang Camp
Altitude: 4,220 m
day 10
Trek from Shomuthang to Robkuthang: We start with a climb to Jhari La (4600 m) where we are rewarded with stunning views, then descend again through forest to Tsharithang, the valley where herds of takin can normally be seen. Today's scenery is absolutely breath-taking. Cross the river and clamber up the hillside for an hour or so to camp at Robkuthang.
Walking time: 6-7 hrs
Overnight: Robkuthang Camp
Altitude 4,160 m
DAY 11
Trek from Robkuthang to Limithang: After reaching the Shinge La Pass (4870m, the highest point of the trek), the path descends and goes through the valley. Limithang is in the Laya district where the locals will be seen wearing unique regional dress. Our camp is at Kang Che Da beneath Gang Chen Ta, the Great Tiger Mountain, at an altitude of 4,090m.
Walking time: 8 hrs
Overnight: Limithang
Altitude: 4,090 m
DAY 12
Trek from Limithang to Laya: The path goes downhill through a winding river valley and enters the eastern end of Laya village. You may even get the opportunity to make a phone call or check email from here as the village is well linked up with telecommunications!
Walking time: 4-5 hrs
Overnight: Laya Camp
Altitude: 3,820 m
DAY 13
Laya: Rest day to enjoy the village, and get to know the local lifestyle of the mountain people in this remote corner of the world.
Overnight: Laya Camp
Altitude: 3,820 m
DAY 14
Trek from Laya to Koina: The trail follows the river valley and there is a breath-taking view of vibrant rivers, feeder streams and waterfalls.
Walking time: 6-7 hrs
Overnight: Koina Camp
Altitude: 3,050 m
DAY 15
Trek from Koina to Gasa: Today may be the highlight for many, as your many long days in the mountains end at the Gasa Dzong where there is a natural hot spring! Ease your muscles after the trek, and camp nearby for the night.
Walking time: 6-7 hrs
Overnight: Gasa Camp
Altitude: 2,240 m
DAY 16
Gasa to Punakha: Drive to Punakha, where you can either visit the Punakha Dzong or simply enjoy the afternoon to relax and catch up on laundry and communications in your hotel.
Driving time: 3-4 hrs
Overnight: Punakha
Altitude: 1,242 m
day 17
Punakha to Thimphu: Visit Punakha Dzong in the morning, if you didn't get to it yesterday, and return to Thimphu.
Driving time: 3 hrs
Overnight: Thimphu
Altitude: 2,320 m
day 18
Thimphu: Thimphu sightseeing.
Overnight: Thimpu
Altitude: 2,320 m
day 19
Depart: Drive to Paro and depart.
Other trips you may be interested in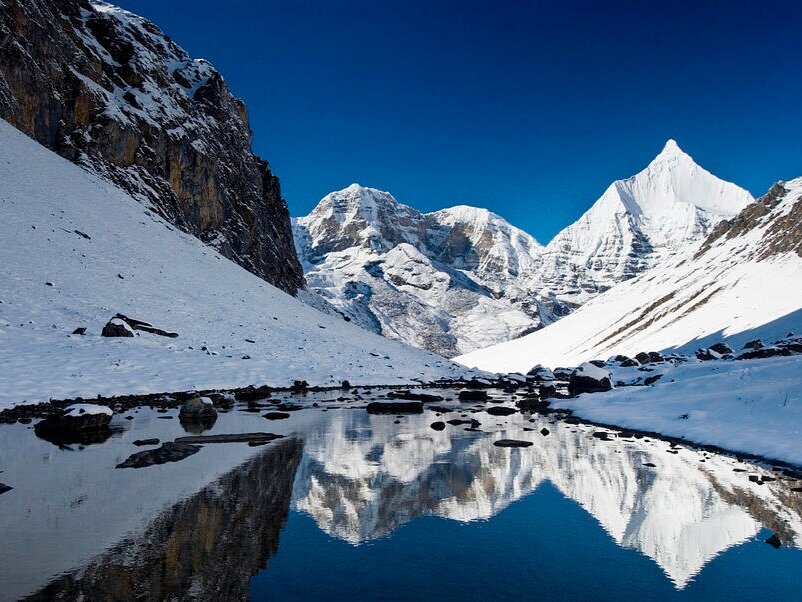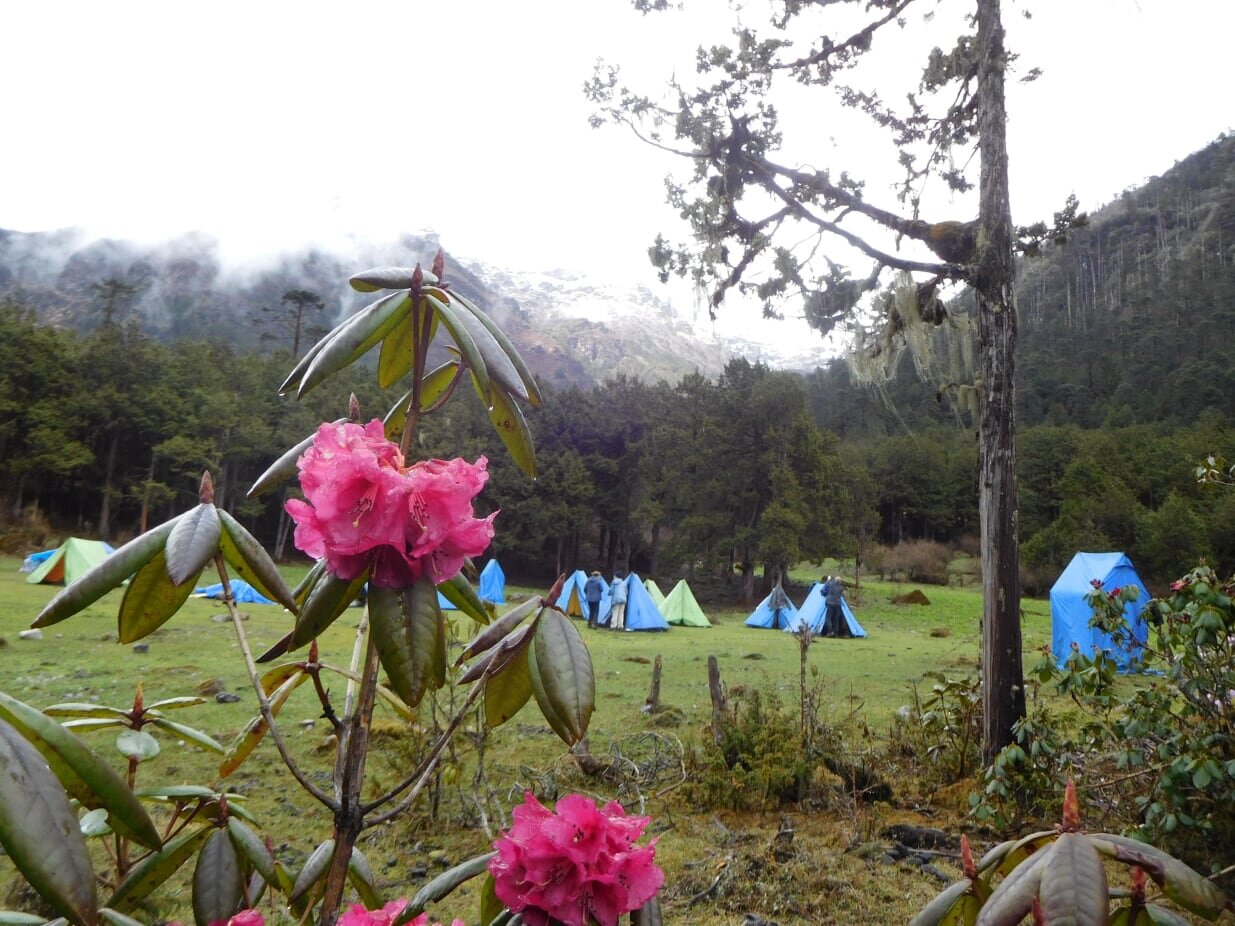 Jomolhari Loop Trek, Bhutan